sponsorship
---
Use Our Podcasts to Get Your Message Out
Doctor Who and science fiction in general casts a wide net in its followers. While our podcasts reaches everyone from 8 to 80, a majority of them reach those of the age of 21 to 44. Half of them are single with a disposable income.
Listeners range from 'hardcore' fans, to casual fans as well as people who have just obtained an interest in the genre. Most of them will consume other related media and collect associated memorabilia.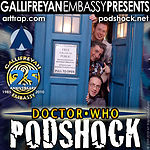 To celebrate the 5th anniversary of Doctor Who: Podshock, we are cutting our sponsorship fee schedule by 50% for the remainder of this year! This is a great deal for advertisers that would like reach a large market that we do with our shows.
Do you have a convention to promote? A store or product? We can get the word out to thousands of people.
For more information on becoming a sponsor and advertising, see 'Use Our Podcasts to Get Your Message Out'
Netflix is the world's largest subscription service streaming movies and TV episodes over the Internet and sending DVDs by mail. All for a low monthly subscription fee. Join Netflix and get unlimited movies! Instantly streaming to your TV..
Watch as many movies as you want!
Get movies 2 ways for 1 low price.
DVDs by mail plus watch instantly on your TV.
Or choose the streaming only service for a lower price.
No Late Fees - Ever!
Cancel anytime.
Streaming instantly over the internet to your TV… Plus, DVDs by mail.
Long time Doctor Who: Podshock listener, Worth Godwin offers computer training in plain, easy to understand english for both Apple Mac and MS Windows PC users. Upon learning of our call out for advertisers and sponsors in order to keep Doctor Who: Podshock and the other shows we produce continuing, Worth stepped up and offered us an affiliate sponsorship opportunity with his computer training business.