advertising
---
Use Our Podcasts to Get Your Message Out
Doctor Who and science fiction in general casts a wide net in its followers. While our podcasts reaches everyone from 8 to 80, a majority of them reach those of the age of 21 to 44. Half of them are single with a disposable income.
Listeners range from 'hardcore' fans, to casual fans as well as people who have just obtained an interest in the genre. Most of them will consume other related media and collect associated memorabilia.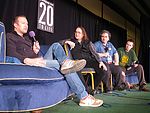 Once again we are bringing our shows to Gallifrey One, the premier annual Doctor Who convention in Los Angeles, including the official podcast for Gallifrey One, Doctor Who: Podshock, in addition the Sonic Newsdriver and Hitchhiker's Guide to British Sci-Fi will have a presence at the event.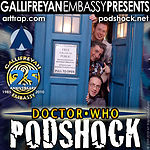 To celebrate the 5th anniversary of Doctor Who: Podshock, we are cutting our sponsorship fee schedule by 50% for the remainder of this year! This is a great deal for advertisers that would like reach a large market that we do with our shows.
Do you have a convention to promote? A store or product? We can get the word out to thousands of people.
For more information on becoming a sponsor and advertising, see 'Use Our Podcasts to Get Your Message Out'
The Association for Downloadable Media (ADM), a non-profit organization serving podcast producers, is seeking information on consumers' attitudes of advertising within podcasting. The ADM is looking for audience attitudes and reactions to things like ad style, delivery and placement. The results of this survey will allow podcast producers to best fulfill the expectations of their audience as they pertain to advertising and their reactions to it.
The survey will take approximately 10 minutes to complete and you will not be asked to provide any personal contact information.