Up and Running with iOS 4
---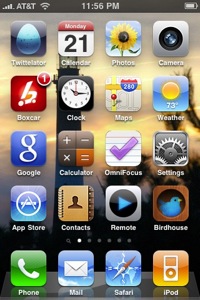 On Monday, June 21, 2010 Apple released the latest iPhone OS, now named iOS 4. After a long upgrade process, things have been fairly smooth with the new OS.
iOS 4 offers many improvements and new features, but most notably for myself on the iPhone 3GS at this point is the addition of folders and multitasking.
The upgrade process varies for people. I assume this is due to just how much data they may have stored on their iPhones. I seen people on Twitter being able to upgrade their iPhone fairly quickly (within the half hour). I on the other hand, the process took much longer. I suspect because I have over 12,200 photos on it and what not. It had to backup the iPhone a couple of times, install and verify the iOS software. The iPhone itself had to update itself in which the last 2-3% of the process took forever and a day. So much so that I thought iTunes stalled out since it looked as if it stopped responding. I waited it out, and eventually it finished the process and re-synced.
What I did notice right away was that the photo library size has changed now with iOS 4. I had just reported on this issue just a few days ago that the photo library on the iPhone seemed usually high for its screen size. See my post: Interesting Observation on Syncing Photo Libraries to iOS Devices.  Previously with iPhone OS 3.1.3, the photo library on the iPhone 3GS with around 12,200 photos was 8.77 GB in size according to iTunes. In the middle of upgrading to iOS 4, I noticed that number changed to something like 2.6 GB and meanwhile the "Other" category in iTunes grew another 6 GB. After iOS 4 was installed, iTunes immediately re-synced the iPhone and went ahead and automatically re-optimized all 12,200 photos again. When it was done, the photo library came in at around 3.7 GB and the "Other" shrunk down to 1.6 GB. I also gained about 3 GB of space on the iPhone that has been reclaimed.
Now it seems that the iPhone photo library size is more justified in its size in comparison to that of the iPad and Apple TV.
We will see if the iPhone 4 with its 4x the resolution Retina Display will have iTunes once again re-optimize all the photos for that device or not.
I spent a good part of the afternoon organizing my many installed apps into folders in order to cut down on all the scrolling back and forth of iPhone screens to get the app I need to run. One can only hope that this was not all for naught and will not have to be redone for the iPhone 4 when that is released. As I recall, I believe you can restore a previous iPhone settings to a new one when you first sync it to iTunes. So I should be set to go.
Multitasking seems to be working well. Although it was never that big of an issue for me to have it because I am usually doing one thing at a time on the iPhone anyway. Though there are those times when it will come in handy. The most obvious one for everyone is probably streaming music using an app like Pandora. Yes, I tested it out, it works well.
Although I haven't tested out every single app I have installed yet under iOS 4, I have tested the ones I use on a regular basis. All but one worked fine. The one that now crashes upon trying to launch every time is AppMiner. Hopefully an update for iOS 4 will resolve it soon enough.
Everything seems snappy. I was fearing perhaps a slow down with all the extra features. The only new feature that seemed to be painfully slow on my iPhone 3GS (and it may, and most likely be because of the amount of photos I have loaded on it) is the "Places" features now in the Photo app. Where it will place pins on a world map for all your photos geotagged (the vast majority of mine are indeed geotagged).
Along with iOS 4, Apple also released the latest iBooks app which now supports the iPhone and I believe the iPod touch in addition to the iPad which it supported from the start. The updated app now includes the ability to sync and read PDF files in addition to books in the ePub format. I did test it out with one PDF. It does work, although it is a little slower in rendering and page turning with the PDF. It could had been the particular PDF I was using which had graphics on each page. It may turn out to be wiser to transfer certain PDFs to the ePub format instead perhaps.
All in all, iOS 4 on the iPhone 3GS is a very good thing. Despite the long upgrade process (in the end, it must had been 90 minutes to 2 hours to upgrade my iPhone). It is like I have a whole new iPhone. Which is a shame in a way being that the iPhone 4 is now just days away.
Oh, one unexpected surprise: The iPhone 3GS under iOS 4 now offers a camera with digital zoom (with the built in camera app). While I knew this was a feature with the iPhone 4, I didn't realize it was simply part of the OS. Although with improved camera of the iPhone 4, I am sure the results will be far better with it than the 3GS. It's still a nice surprise.
PS - Having a unified email inbox is sweet.