Punch It, Chewie! Star Wars in Concert Review
---
A long time ago (well, not really, it was just last month), in a galaxy far, far away (well… it about a 25 minute drive away) I saw Star Wars in Concert. I was excited about this concert tour since it first came to my attention in July (as I recall, it was right around the same time as San Diego Comic Con). It's been a long time since I have been excited about any concert tour.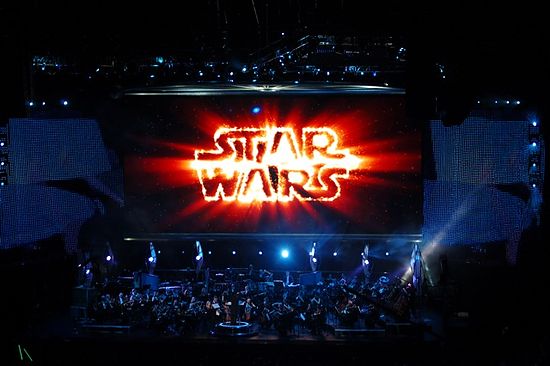 Rewind back to 1977, it was the John Williams soundtrack of the Star Wars film released that year which first made me appreciate fine music and quickly became my favorite album. It also started my love affair with movie soundtracks. Although not my first (that honor goes to The Beatles Yellow Submarine), it was my first pure instrumental soundtrack.
Back in the day, I played it over and over. It was the only way to relive the film at that time. Remember, there were no VHS tapes, DVDs, Laserdiscs or any other media available to watch the movie at home (and no, I am not counting Super 8 movie clips that were rare to find at the time). Heck, even the Star Wars action figures did not make it to the store shelves until 1978.
The soundtrack was a 2 vinyl record release which included a gorgeous fold-out poster illustrated by John Berkey that found its home on my bedroom wall for years to come.
What the album did not have, was a way to see the music performed live. It was something magical about the music, just like the Force itself. It was hard to imagine this music coming from earthbound instruments. The music was feeling, passion, and emotion, not windwood and string instruments. Unlike The Beatles or a small band of musicians, where you can hear the individual artists, the large orchestra music is far grander in scope and is as big as the movie is big. It was magical, as the movie was magical. It was not a concert that would come to town like The Grateful Dead.
Sure, if you were in the right venue at the right time, perhaps you may have been treated to John Williams with an orchestra playing this fantastic music. This was not common for most people though. There had been some rare times which he performed the Star Wars score in front of live audience, but I thought that opportunity would present itself to me.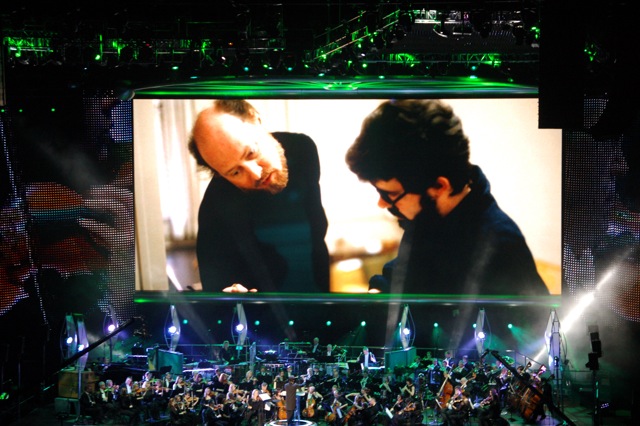 John Williams and George Lucas shown collaborating on screen
When this Star Wars in Concert tour was announced, I was overjoyed. At long last I will have a chance to see and hear this wonderful music performed live. No, it didn't have John Williams heading it up conducting the orchestra, but I can accept that, in a perfect world, he would be there on this tour. In his stead, on this tour is Dirk Brossé. Brossé proved he was more than up for the job, and did a fantastic job leading and conducting the orchestra.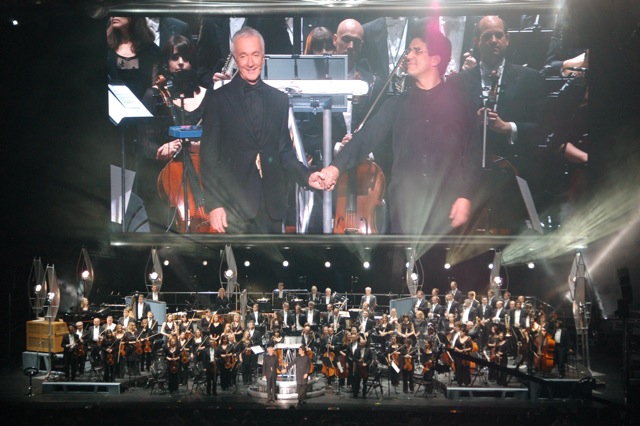 Anthony Daniels and Dirk Brossé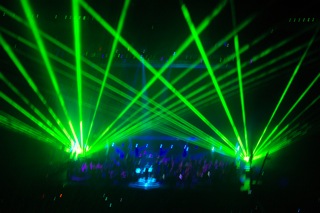 Technically, everything is top notch here. A huge special LED high definition flat screen center on stage served to display images and footage from the film series, while the orchestra played below it. The lighting design was good, and it had a touch of Pink Floyd with laser lights and pyrotechnics on display in sync with the music. Hats off to Steve Cohen for his skillful production design and show direction.
Actor, Anthony Daniels left his gold plated C-3P0 costume in the lobby on display and played Master of Ceremonies for the concert. He introduced each musical piece and served to add some humor and fun to the audience just as his goldenrod counterpart did on screen in the film series.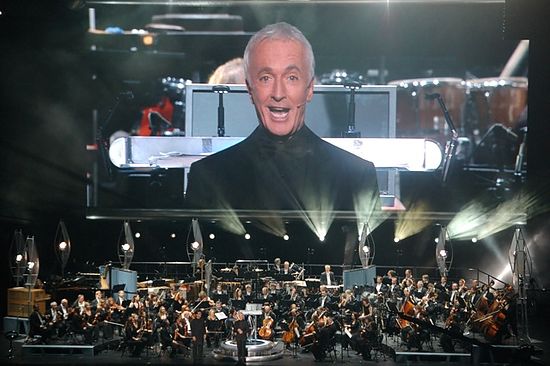 After years of attending rock concerts, this was the first time I attended a stadium concert in which at least one-third of the attendees have yet to graduate to middle-school. Yes, many parents brought their children to enjoy the show. When the lights when down, you could see all of them waving their battery operated lit mini lightsabers, just like those little pen lights we got as kids attending the circus, back in the day.
Even with kids in the audience, the music experience was not compromised. The sound system did a great job with the orchestra surprisingly. It engulfed the stadium without distortion. In fact, it was too good at times that it was hard to tell it was actually being performed live on stage before us.
There lies my only real complaint is that although it is fantastic that they showed clips from the film series on the enormous LED screen, it would be had been nice to see more of the orchestra itself on the screen. Sure, you can see them on stage… but unless you had a close seat, macro-binoculars, or a camera with zoom lens as I did, you would be hard pressed to see them under the huge dominating screen. Yes, they wanted to show clips from the movie series to go along with the music pieces, especially with so many kids in the audience, but why not use a split screen sometimes to show both? On the right and left of the fantastic screen there were two other screens, but these were not LED screens, but rather a much cruder billboard-like display which sometimes would show the musicians, but it was rather abstract.
The music was spot on. So much that I had to remind myself that the music was coming from the live orchestra on stage, and not from the film soundtrack being played on the screen. Hence, I enjoyed a little diversion from the recorded ended of the Cantina song when it was performed live.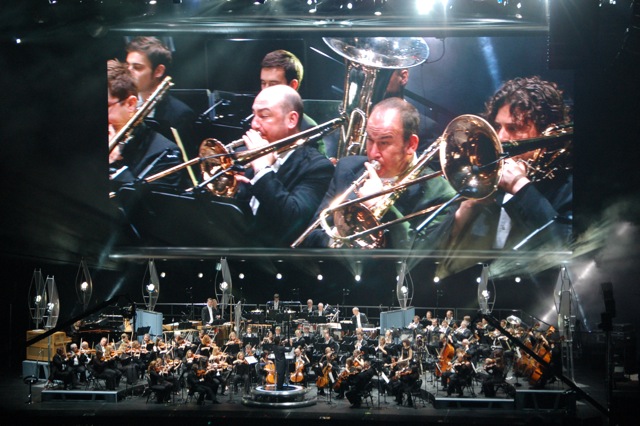 I was happy with (spoiler alert) that there was an anchor performance of The Imperial March, which the big LED screen was entirely dedicated to the musicians in the orchestra. I wish there was more of that. After all, if I want to see the movies, I have them on DVD, and saved in HD on an old TiVo (and on other DVDs, multiple versions on laserdiscs, and even VHS tapes). In fact, I feel like I could see the whole show over again with the musicians taking the big LED screen time instead of film clips.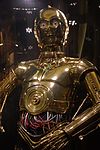 All in all, I had a fantastic time. I wish I could had seen it again though. I also wish there was more time to see the exhibits in the lobby circling the stadium. I was chased out by security after the show claiming they needed to get ready for the next show (which was hours away). So I didn't get to see all the exhibits that were display. And what a display it was… There were costumes and props, production illustrations, and even the some the written score itself on display.
There was a 20 minute intermission during the show in which you could see the exhibits, but it is far too crowded to really appreciate them during that time.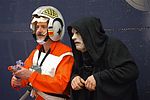 Joining myself at the concert was Ken Deep of Doctor Who: Podshock as well as Chris Keaveny and Doctor Who: Podshock special correspondent, Billy Davis who was there as Emperor (not the White Robot as he became known for over the past year at Doctor Who conventions), along with Rob dressed as Rebel pilot. They were there to add to the Star Wars theme and they allowed kids (old and young) to be photographed with them.
Aside from not having enough time with the exhibits and not seeing enough of the musicians in the orchestra, it was a grand time. It was a long time coming as this was something I wanted to see and hear for over 30 years now. If you can catch it and you are fan of the music of the film series, you will not want to miss this concert tour.
After seeing the show, I recorded this "AudioBoo" below:
If you don't already have the music, it's available at Amazon (see below) and enjoy it any time you like:
All photos and video by Louis Trapani